No matter what your product is or what you are selling, getting instant customers is always a tough challenge for companies. Today we can easily see the fierce competition among marketers and trust issues of customers with the businesses. Building a trustworthy image in a buyer's eyes is not an easy task. It takes a lot of effort and pain. It is very frustrating and hard for companies to generate valuable offers on their products and services. And it is more painful when you spend a lot but get nothing in return. To do businesses out of such severe conditions, the sales funnels and Salesforce sales cloud have emerged as one of the best solutions.
Remember that if you are running any service-based business, a sales funnel will help you make it more competitive.
What is a click funnel?
What is the sales funnel?
How does it work?
What is the use of the Click funnel?
What are the features and benefits of this platform?
Well, these are the most frequent questions that every individual asks. Today this blog tries to answer all your questions and provides you with an ultimate guide of a Click funnel platform.
If you are a salesman, business owner, marketer, or consultant and want to sell, deliver services, and look to generate leads, then this blog is for you.
Keep reading-
Before discussing the benefits of click funnel, let's first talk about what it is?
What is Click Funnel
Russell Brunson and team in the 2014 build click Funnel. It is a sales funnel builder for businesses. With this platform's help, anyone can develop landing pages, sales pages, order pages, thank you pages, checkout pages, and manage sales of their business website. One can quickly access it without having coding skills. This platform helps businesses to sell, market, and to deliver their product & services online. You can also be called click funnel as an All-In-One Marketing tool. The platform supports Windows, MAC, web-based Devices.
You can use click funnel:
To Manage and hold leads.
To sell a product
To sell a service.
To conduct a webinar
Who can use click funnels?
Click funnel can be used by any entities or by an individual, including:
· Freelancers.
· Vendors.
· Small businesses.
· eCommerce shop owners.
· Marketers.
· Consultants.
· Non-Profit Organisation.
· Coaching centers.
What is a Sales Funnel?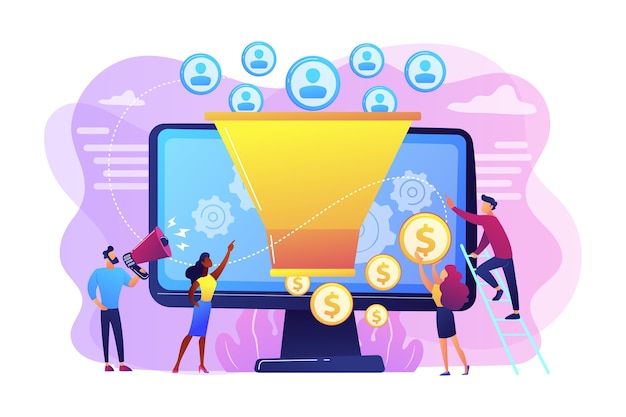 Sales funnel is a marketing strategy that is mainly designed to convert cold prospects into potential buyers.
It helps businesses to increase their target audience. It is also known as marketing or conversion funnel, sales process, sale cycle, and a customer acquisition model. The Sales funnel breaks down the buyer's journey into small steps so that companies can offer their product and services in a more precise way. It also helps them in holding customers for a long time.
For instance- Dominos, if a person orders a pizza, the sales personnel or an application asks him about any add-ons in the order like extra cheese, cold drinks, fries, or many other options. Or they offer a combo meal which looks like a surprise or extra in size. Every offer they made over a product is a step to increase the customer's curiosity and interest. It only increases the purchase size and helps companies to earn more.
How does Click Funnel work?
Working on the click funnel is very simple. Click Funnel is an automating sales process by which one can completely control and monitor the buying journey. It is software that is mainly designed for online businesses.
It allows the businesses to develop a sales funnel that converts visitors into leads. Further, it starts making valuable offers on services until the visitor is turned into a potential buyer. Click funnel comes with excellent inbuilt tools that help companies build robust sales funnels and run a better business.
Let's take an example for better understanding-
Let's say you have a product to sell or promote, for that-
The first step you do is develop the best landing page for your product, which collects the email alias of a visitor who viewed your product.
Once you are done with the landing page, you need a sales page for selling your product. There are many ways of developing a sales page. Always keep in mind, the right sale page leads you to increase user engagement.
If a visitor visits your page and is ready to purchase your product, the page redirects him to the sign-up page to fulfill all the required information and make payment.
Once the sale process is done, you can deliver your product to the buyer. All these things happened only on a single platform. It is the coolest and one of the benefits of using a click funnel.
Features of Click funnel: –
Click funnel comes with lots of features. Here in this blog, we've listed some top features of a Click funnel. Let's have a look-
· Drag and Drop – A convenient and useful feature to create a unique landing page without having any expert coding skills. Click funnels provides free templates that are readily available to customize. You can also create pages from scratch by drag and drop options.
· Share funnel – This feature helps you to generate and share links with a funnel. Most individuals join the click funnel to earn money by affiliate marketing or to earn a commission. Once a visitor taps on a link shared by you, it will redirect him to the website and add a commission for the person who brings that visitor. If you want to do the same, then the sales funnel can do wonders for you to make stagnant incomes.
· Gateways – The click funnel helps you accept direct payment from the buyers without involving any third parties. It supports many payment gateways like PayPal, Apple Pay, and many more.
· Providing SSL –Click funnels security has made it the number one platform in businesses' eyes. Its website is highly secure that keeps buyers and sellers safe from theft attacks and fraud. The sites made with click funnel have SSL Certificates.
· Funnel fix – Funnel fix is a click funnel package that contains online training and courses for marketing. The courses included in these funnels are available at a specific price.
Other features: –
· Tracking.
· Email Automation.
· Testing.
· Backpack tool.
· Support and service.
Benefits of Click Funnel: –
There are several benefits of using a click funnel. We have listed the best of them-
· Provide integrations – Click funnel allows you to integrate other mandatory tools for sales funnel work. It provides integration of email, gateways, analytics in a few clicks.
· Saves Time, Money, and Efforts – A detailed landing page takes lots of time, money, and effort. Click funnel takes care of this. By providing built-in templates, funnels, and integration, businesses can quickly cut their cost and time.
· Easy to work with – Offering a good user experience is one of the top priorities of a click funnel. Anyone can use this platform. You don't have to require coding skills to build pages and hosting expertise to host a website. Click funnel made all tasks easy. It provides the best support and service to its customers.
What is the need for a Click funnel?
The demand for a click funnel depends on the nature of the business. But if you are in online business, then we can probably say that you need a platform like a click funnel because: –
· It helps to increase your revenue.
· It makes marketing hassle-free.
· It provides accurate forecasts.
· It helps to improve conversion rates.
Wrapping up: –
We hope that with the help of this blog, we answered all your queries. Are you still thinking that the click funnel is worth it or not? Yes, it's worth it; it would not become a million-dollar industry if it's not worth keeping. It's not just a tool. How you use the click funnel and how it works for you entirely depends on your experience. So, grab knowledge of this platform because the opportunity is enormous, and it can be your money-making machine as well.